SACRAMENTO SABRECATS Webpage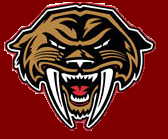 Welcome to the Sacramento Sabrecats webpage. The Sabrecats are part of the MSHL.
Well the team had tough year, finishing 2nd last overall by just 2 points. However, at the 11th hour just as the playoffs begin rookie's Scott Fraser, Adam French and Mika Noronen all signed and the team knocked off the Division champs the Tokyo Typhoon. Now in the 2nd Round the Sabrecats lead the Las Vegas Gamblers 2-0. A feet that is mostly thanks to Goalie Mika Noronen who has allowed just 1 goal vs LV in the playoffs. Add to that Scott Fraser's OT winner is game 2 and the team is looking to pull off yet another big upset!
[Last Updated Aug. 2, 2000]